Volcano of Methana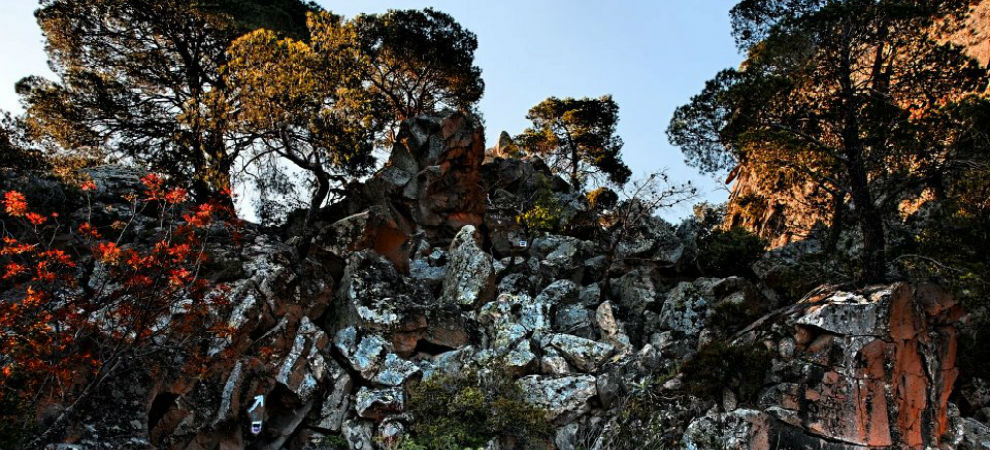 The volcano of Methana belongs to the volcanic arc of the southern Aegean Sea, is located at its west end and has significant geothermal potential, but not fully researched. It had intense volcanic activity, between the period 276-239 BC, by reports of ancient historians such as Strabo, Pausanias and Ovid.
The volcano of Methana has got thirty craters. The most famous of the craters of the volcano is the one that lies northwest, above the village of Kaimeni Xora and is no longer active. The crater of Kaimeni Xora has a depth of approximately 50m., diameter 100m. and the height of the cone is 425m. On its northeast side you can see two others - parasitic - craters. The path to the crater is a path carved into the lava and it is a nice experience. After approximately 30 minutes you can reach the volcano crater.
At the location "Kalokoumparo" you will see the limestone covered by the lava of the volcano. The scattered blocks of lava (El. Platakis 1952) have the form of a giant stone river that stretches for 1500 meters to the sea forming the "Black Cape", as locals call the low hill of the cape, just below the Volcano.
The Volcano of Kameni Hora is one of the newest in the Aegean volcanic arc. The explosion must have taken place during the reign of Antigonus Gonatas (277-240 BC), according to the reports of Strabonas (Geograf.A, c59, 18), Ovidios (Metamorphoses, XV, st.296 -306) and with what Pausanias refers to in his work (Ellados Periegesis, II, 34). Ovidios says in fact that the whole area around the village of Kameni Hora was an extensive and rich plain, but severe volcanic eruption has covered a great part with huge volumes of lava and ash.
In the peninsula have been recorded thirty craters, with the last recording taking place in 1987 and finding an underwater crater at a depth of 200 meters. The largest terrestrial crater is in the location "Throni", west of Methana.
Other large craters we can find southeast of the Mountain "Xelona", at the location "Stavrologgos" and also at the location "Makriloggos". Also, volcanic craters you'll see at the location "Ano Mouska" and "Kipseli". The last active craters where the ones of "Kammeni Xora".
At the Aegean volcanic arc there are the volcanoes of Susaki, Aegina, Methana, Poros, Velopoulas, Karavi, Falkonera, Antimilos, Milos, Kimolos, Polivou, Strogilou, Despotikou, Spyridonision, Antiparos, Christianon, Santorini, Kos, Nisyros, Alicarnassus and Patmos.
This Aegean volcanic arc was responsible for the manifestation of volcanic activity in the southern Aegean during the ancient times, when many eruptions took place.